Happy Customers
Thanks for all you do for us! We couldn't be happier with the service. GoWest rocks.
No Crowds, No Hassles
Every GoWest Hosting account includes ample resources for even the most robust web applications. Our secure servers are always undersold to give your site plenty of breathing room! See Plans & Prices
Free Trial Hosting
We are so confident you'll like our services, we don't charge a dime until you're all set up. Every GoWest Hosting plan includes a no-risk free trial offer.
Sign up now to get started.
Easy Reseller Hosting
GoWest on Facebook
GoWest Hosting Customer Login & Control Panel Access
Access your Control Panel, Email, Site Traffic Statistics and other features using the links and options below, or contact us for assistance.
Access your secure hosting features from anywhere, anytime
For assistance with logging into any of these secure systems, or to reset or recover lost passwords, please contact our support team.
Helm Control Panel
SmarterMail
Access your SmarterMail Enterprise webmail account at "mail.yourwebsite.com" or http://smartermail.gowesthosting.com
Remember, you must use your full email address (you@yourdomain.com) to log in
SmarterStats
View your complete SmarterStats site traffic reports at http://stats.gowesthosting.com
Your SmarterStats password is controlled from within your Helm control panel account.
cPanel Control Panel / WebHost Manager
Linux customers may access the cPanel Control Panel at http://cpanel.gowesthosting.com
The associated WebHost Manager admin area is located at http://whm.gowesthosting.com
cPanel WebMail
Linux customers may access their WebMail system at http://webmail.gowesthosting.com
Also See...
Hosting Tutorials: See our quick, easy videos for help and tips for working with cPanel, Helm, SmarterMail, SmarterStats, FTP, email configuration, and more.
GoWest Hosting News & Updates: We'll post announcements, updates and other items of interest from time to time. Check back often!
GoWest Custom Website Design: Check out some of our recent custom website design work.
What can we create for you?
Cartweaver Ecommerce: GoWest owner and lead developer Michael Evangelista is part of the CartWeaver product development team, and GoWest Hosting services are optimized perfectly for Cartweaver Coldfusion or PHP websites. In addition to Cartweaver programming and modifications, our work has been featured on the CartWeaver website.
Customer Testimonials: Happy customers are our specialty. Feel free to check our references!
Plans & Prices
Reseller Hosting
Free Trial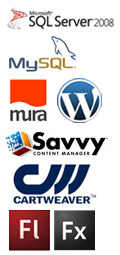 Customer Reviews
Video Help Tutorials
ColdFusion Help
Authorize.net Services

GoWest Hosting is a verified Authorize.net reseller. Details & Sign Up
News & Updates